Product News
CableCreation: Leading the Cable Industry with Global Reach
CableCreation, an industry leader in the cable industry, connecting the world through their high-quality solutions and global reach. With their presence on major online shopping platforms and a trusted reputation among professionals, CableCreation is revolutionizing connectivity on a global scale.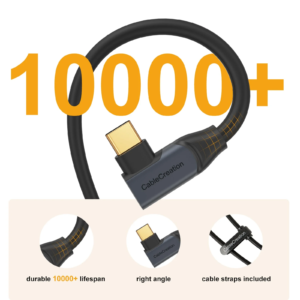 Expansion into Major Online Shopping Platforms
CableCreation, a leading name in the cable industry, has successfully expanded its presence onto major online shopping platforms. With strategic partnerships with renowned platforms like Amazon, Wal-Mart, AliExpress, Tmall, and JD.com, CableCreation has gained access to a vast customer base and expanded its market reach.
By making their products available on these global platforms, CableCreation has ensured that customers from all around the world can easily access their high-quality cable solutions. This expansion has not only increased their visibility but has also allowed them to cater to the diverse needs of customers in more than 100 countries.
CableCreation: Trusted Provider of Quality Cables for Professionals in Every Field
As market leaders in the cable industry, CableCreation has earned the trust and loyalty of professionals across various sectors. From audio engineers to musicians, videographers to filmmakers, gamers to business people, CableCreation's reputation precedes them.
The trust placed in CableCreation stems from their unwavering commitment to quality and reliability. Professionals rely on CableCreation's cables for their critical workflows, knowing that a break in the line can disrupt the entire process. CableCreation's cables offer the stability and performance needed to keep professionals productive and efficient.
Conclusion
CableCreation's global expansion onto major online shopping platforms has allowed them to reach a wider customer base and offer their high-quality cable solutions to customers worldwide. As market leaders, they have earned the trust of professionals across industries, who rely on CableCreation for their critical workflows. With CableCreation, customers can expect top-notch quality, reliability, and a seamless connection experience.