Product News
Ensuring Precision in Hip Surgery with Sterile Drapes
Hip surgeries require an exceptional level of precision and sterile conditions to achieve successful outcomes. Winner Medical, a leading manufacturer of sterile drapes, has introduced a specialized solution tailored for hip surgery.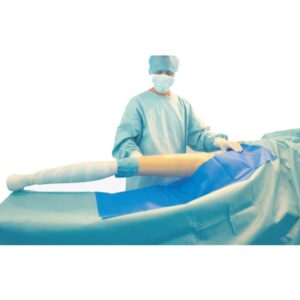 Customized for Hip Surgery
Winner Medical's Hip Set is exclusively designed to cater to the unique requirements of hip surgery procedures. Whether it's total hip replacement or any other hip-related surgery, these sets are meticulously created to meet the highest standards of precision and sterility.
Quality Fabric Selection
The Hip Set is available in two fabric options, either SMS or laminated fabric. The choice between two or three layers of nonwoven fabric allows customization to meet the specific requirements of the surgical procedure.
Quality and Precision as Standard
The fabric used in Winner Medical's Hip Set is engineered to resist tearing, strikethrough, and abrasion. This is of utmost importance in hip surgeries, which can be demanding on materials. Additionally, the fabric is designed to be low lint, which significantly reduces the risk of airborne bacterial transmission, contributing to a safer surgical environment.
Safety and Protection
One of the standout features of the Hip Set is its inherent barrier function against both liquid and bacterial transmission. This added layer of protection ensures that the surgical team can focus on the procedure at hand, without concerns about contamination.
Optimal Design for Aseptic Application
The Hip Set is designed with optimal folding in mind, allowing for aseptic application. This feature is crucial in maintaining the sterile field throughout the surgery, safeguarding the patient's well-being.
In summary, Winner Medical's Hip Set is an exemplar of precision, safety, and sterility in the field of hip surgery. With its customized design and focus on safety, it stands as an ideal solution for hip surgeries, setting a high standard for sterile drapes in the medical industry.