Product News
Handmade Elegance for Everyday Dining and Festive Occasions
Discover the perfect balance of beauty and practicality with Dowan's leisure small soup bowl set. Crafted with care and designed to elevate your dining moments, these bowls will become a cherished part of your tableware collection.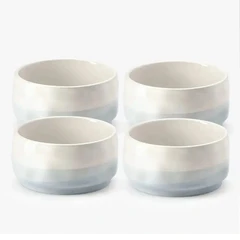 Versatile and Charming
Dowan's leisure small soup bowl set is perfect for serving rice, cereal, and soup, making it a versatile addition to your tableware collection. These bowls are designed with a handmade feel, adding a touch of warmth and elegance to your home decor.
The bowls in this set are thoughtfully crafted with attention to detail, ensuring both functionality and aesthetic appeal. The size and shape are carefully chosen to provide a comfortable grip and ample capacity for your favorite dishes. Embrace the leisurely charm and elevate your dining moments with Dowan's small soup bowl set.
Quality Craftsmanship and Durability
At Dowan, quality is of utmost importance. Each bowl in the set undergoes meticulous craftsmanship to ensure durability and longevity. The high-quality ceramic material guarantees excellent heat retention and prevents the bowls from easily chipping or cracking. With Dowan's small soup bowl set, you can enjoy its beauty and functionality for years to come.
The leisure small soup bowl set is dishwasher, microwave, and oven safe, providing convenience and versatility in your everyday kitchen routines. You can effortlessly transition from cooking to serving, and even store leftovers directly in these bowls.
Conclusion
Bring joy and elegance to your dining table with Dowan's leisure small soup bowl set. Experience the perfect blend of traditional craftsmanship and contemporary design that Dowan is renowned for. Enhance your everyday dining and elevate your festive occasions with these versatile and charming bowls.