News
Invest in Forest City Golf Hotel: A Unique Opportunity to Enter Johor Bahru's Thriving Hospitality Industry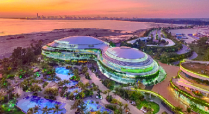 Johor Bahru is a competitive market for luxury hotels and golf resorts, with several established players vying for the attention of tourists and investors. In this highly competitive landscape, the Forest City Golf Hotel stands out as a property that offers a unique experience to its guests and attractive investment opportunities for interested parties.
Analysis of other luxury hotels and golf resorts in Johor Bahru
Compared to other luxury hotels and golf resorts in Johor Bahru, the Forest City Golf Hotel has a clear pricing advantage while offering superior amenities and services. Guests can enjoy world-class facilities such as championship golf courses, stunning swimming pools, and wellness centers at an affordable cost. The hotel's dining outlets offer a range of cuisines prepared by experienced chefs, ensuring that guests have a memorable dining experience.
What sets the Forest City Golf Hotel apart from its competitors is its commitment to sustainability. The hotel has implemented eco-friendly practices throughout the property, including using renewable energy sources and reducing plastic waste. This commitment to sustainability resonates with environmentally conscious travelers and investors who seek to align their values with their investments.
Unique selling points of Forest City Golf Hotel
The hotel's unique features extend beyond sustainability. Its partnership with renowned hotel management companies ensures that the property operates efficiently and effectively, allowing for maximum profitability for investors. Moreover, the hotel's location within the Forest City development provides tremendous growth potential, given the region's long-term plans for expansion and development.
Conclusion
In conclusion, investing in the Forest City Golf Hotel represents a unique opportunity to become part of Johor Bahru's thriving hospitality industry. With its competitive pricing, superior amenities and services, and commitment to sustainability, the hotel is well-positioned to capture a significant share of the market and provide investors with attractive returns.