News
Mindray: Dependable Supplier of AEDs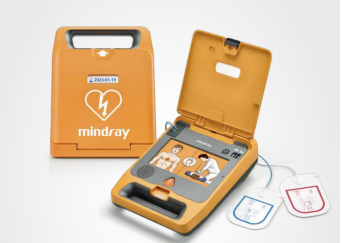 CPR and AEDs are two essential methods of resuscitation in cases of cardiac arrest. Groups such as students who have not yet had official first-aid training must have access to the proper equipment and instructions for administering first aid. Mindray is a world leading AED for schools supplier in the sector. This article will demonstrate how to utilize AED equipment to provide first aid in the event of cardiac arrest.
The proper approach to revive a patient in cardiac arrest
Using manual external cardiac compressions to maintain blood flow, provide oxygen to the body's major organs, and avoid organ failure and brain death is one of the most effective techniques to properly revive a patient in cardiac arrest.
However, hand compressions are insufficient to substitute the pulse momentarily. AEDs are used to get the heart pumping again as quickly as feasible. Therefore, CPR and AEDs are the appropriate means of administering first care to a patient in cardiac arrest.
With this in mind, a consistent and dependable AED is essential, and Mindray is an industry leader. Therefore, correctly using AEDs manufactured by Mindray may significantly improve the success rate of first aid.
Rescue Properly
For pre-first aid preparedness, if a cardiac arrest emergency arises at school, a conscious student must shout out the patient's name to determine whether they are unconscious, followed by another student searching for the AED equipment and immediately dialing 911.
After obtaining the AED pack, turn on the AED, open the AED's cover, and follow the visual and audible prompts.
Then, as specified in the handbook, hold the electrodes near the patient's chest in the correct position.
The AED will next examine the cardiac rhythm and provide defibrillation if required. Follow the instrument's instructions and await the arrival of medical professionals. Visit the official website of Mindray to learn more about their dependable automated defibrillator supply.