Tech News
Pay a Visit To Mornsun at Electronica 2022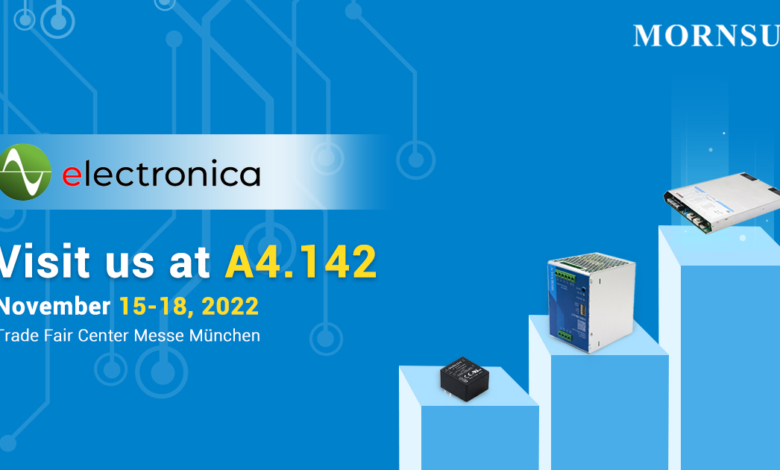 What is Mornsun?
Mornsun produces complete power supply systems with excellent R&D and manufacturing capabilities. Over 6,000+ high-quality products, including AC/DC converters, DC/DC converters, AC/DC enclosed switching power supplies, transceiver modules, signal conditioning modules, IGBT drivers, LED drivers, EMC auxiliary devices, etc., have been sold by Mornsun to the global market during its 24-year development. By specializing in a variety of sectors, including industrial automation, charging stations, solar, telecom, medical, smart home, automotive industry, and more, Mornsun is dedicated to making the world smarter and more efficient.
Learn more about our power supply solutions by stopping by the Mornsun booth at Electronica 2022! Mornsun specializes in offering appropriate power supply solutions for various sectors using cutting-edge technology. At our exhibit, we display unique goods!
Concerning Electronica 2022
The largest trade show and conference for electronics in the world is called Electronica. It opens the doors to the future every two years by showcasing all pertinent trends, hosting thought-provoking seminars, and offering a first-rate supporting schedule. Be the first to see brand-new products and technological advancements in the different electronics markets. Talk to the appropriate individuals in your industry.
Pay a Visit To Mornsun at Electronica 2022
Location: Trade Fair Center Messe München
Date: November 15-18, 2022
Booth: A4.142
Your dependable and trustworthy partner is Mornsun! Visit us soon; we will take the time to address your specific inquiries and needs. We are anticipating your visit.