Product News
Power Up Your PC with Huntkey's MVP P1200 Power Supply
Huntkey's MVP P1200 power supply is a reliable and efficient choice for your PC. With a rated power of 1200W and A-PFC/100-240V~ PFC type, it delivers optimal power conversion and energy efficiency. The 80 Plus Platinum energy rating ensures minimal energy waste, reducing your environmental footprint.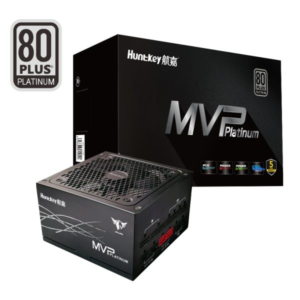 Features of MVP P1200
With a rated power of 1200W, the MVP P1200 is capable of meeting the demanding power requirements of modern PCs. Its A-PFC/100-240V~ PFC type ensures efficient power conversion, reducing energy waste and promoting a greener computing experience. The power supply boasts an impressive energy rating of 80 Plus Platinum, indicating its exceptional energy efficiency.
The topology structure of the MVP P1200 consists of LLC+SR+DC-DC, which further enhances its performance and stability. This advanced structure ensures optimal power delivery to your PC components, contributing to overall system efficiency and reliability.
The cooling system of the MVP P1200 is equipped with a dual ball bearing fan, providing efficient heat dissipation and maintaining low operating temperatures. This ensures that your PC stays cool even during intense gaming or resource-intensive tasks, promoting system longevity.
Huntkey's commitment to quality and compliance is evident in the MVP P1200. It holds certifications such as CCC and ROHS, assuring you of its adherence to strict industry standards and safety regulations.
With a mainboard connector of 20+4P, the MVP P1200 offers compatibility with various PC configurations. Whether you're building a gaming rig or a workstation, this power supply can accommodate your needs.
Conclusion
In conclusion, Huntkey's MVP P1200 power supply offers the power, efficiency, and stability required for your PC. As a power supplier for PC, Huntkey can power up your PC and elevate your computing experience with their reliable and efficient power supply solutions.