Product News
Armazenar Energia Solar: How Sungrow's ST159KWH-50HV Maximizes Efficiency and Reliability
As the demand for renewable energy continues to rise, finding effective ways to store solar energy is crucial for maximizing its utilization. Sungrow, a leading brand in the solar industry, has introduced the ST159KWH-50HV model, a cutting-edge solution for armazenar energia solar. But how does Sungrow's product revolutionize energy storage? How does the ST159KWH-50HV model enhance efficiency and reliability? In this article, we will delve into the capabilities of Sungrow's cutting-edge solution for armazenar energia solar and explore how it addresses the growing need for efficient solar energy storage.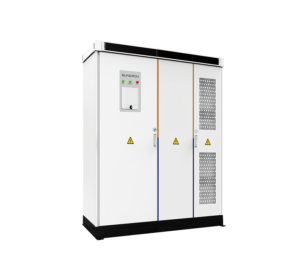 Advanced Battery Technology for Enhanced Efficiency
Sungrow's ST159KWH-50HV model incorporates advanced battery technology to optimize the efficiency of solar energy storage. Equipped with high-capacity advanced  batteries, this solution offers superior energy density and extended cycle life. The advanced battery chemistry ensures minimal energy loss during charging and discharging, maximizing the overall efficiency of the system. With Sungrow's technology, users can store more solar energy and utilize it effectively when needed, reducing reliance on the grid and enhancing energy self-sufficiency.
Seamless Integration and Intelligent Control
Sungrow's ST159KWH-50HV model is designed for seamless integration with existing solar installations. It features intelligent control capabilities that enable efficient energy management and system optimization. Through integrated monitoring and control systems, users can effectively track energy production and consumption, allowing for intelligent decision-making and load management. The intelligent control mechanisms ensure that stored solar energy is utilized optimally, reducing wastage and maximizing the return on investment.
Reliability and Safety for Long-Term Performance
Sungrow prioritizes reliability and safety in their energy storage solutions. The ST159KWH-50HV model incorporates robust safety features, including overcharge and over-discharge protection, short-circuit protection, and temperature control mechanisms. These features not only safeguard the battery system but also ensure the longevity and performance of the overall energy storage solution. With Sungrow's commitment to quality and safety, users can have peace of mind, knowing that their stored solar energy is secure and reliable.
Conclusion
Sungrow's ST159KWH-50HV model revolutionizes the way solar energy is stored, offering advanced battery technology, seamless integration, intelligent control, and utmost reliability. By leveraging Sungrow's energy storage solution, individuals and businesses can harness the power of solar energy more efficiently, reducing reliance on the grid and contributing to a sustainable future. Trust Sungrow for your solar energy storage needs and unlock the full potential of clean, renewable energy.