Product News
Charging Up Homes with Sungrow: Residential EV Charging Stations
The world is rapidly embracing electric vehicles (EVs) as a sustainable mode of transportation. As the demand for EVs grows, the need for reliable and efficient residential EV charging stations becomes paramount. In this article, we delve into how Sungrow, a leading name in the renewable energy industry, is revolutionizing residential EV charging with their innovative solutions, including the AC007/011E-01 product.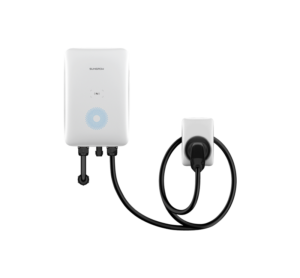 Empowering Homes with Clean Energy
Sungrow, a global powerhouse in the field of renewable energy, is known for its commitment to sustainable solutions. With over 26 years of experience, Sungrow has extended its expertise to the residential sector, offering homeowners the opportunity to charge their EVs with clean and green energy.
Residential EV Charging Stations: The Future of Home Charging
As more households transition to electric vehicles, Sungrow's residential EV charging stations are paving the way for a convenient and eco-friendly charging experience. These charging stations provide homeowners with the ability to recharge their EVs in the comfort of their homes, eliminating the need for frequent trips to public charging stations.
The AC007/011E-01: A Game-Changer in EV Charging
Sungrow's AC007/011E-01 AC Charger stands out as a remarkable product in the residential EV charging market. It seamlessly integrates into a homeowner's existing electrical system, ensuring compatibility and ease of installation. This charger comes with pre-mounted Type 2 charging cables, making it incredibly user-friendly. With its compact design, it can be wall-mounted, saving valuable space.
The Power of Solar Integration
One of the standout features of Sungrow's residential EV charging stations is their compatibility with solar energy systems. Homeowners can harness the power of the sun to charge their EVs, reducing their carbon footprint and energy costs simultaneously. Sungrow's commitment to sustainability is evident in this forward-thinking approach.
Conclusion
Sungrow, a renowned brand with a global presence, is at the forefront of providing homeowners with efficient and eco-friendly residential EV charging solutions. With the AC007/011E-01 and the potential for solar integration, Sungrow is lighting the path towards a greener and more sustainable future for EV owners. Say goodbye to the inconvenience of public charging stations and embrace the convenience of residential EV charging stations from Sungrow.
In conclusion, Sungrow's residential EV charging stations are a game-changer, offering homeowners a seamless and environmentally friendly way to charge their electric vehicles. With the AC007/011E-01 and the option for solar integration, Sungrow is driving the future of residential EV charging. Say hello to a greener way of charging your EV at home.