Product News
Unleash Your Inner Chef with BakerStone's Gas Grills with Side Burner
Prepare to embark on a culinary adventure like no other with BakerStone's extraordinary gas grills and side burner combo. With years of expertise in the outdoor cooking category, the BakerStone team has harnessed their passion for exceptional products to create a lineup that exceeds all expectations. Get ready to revolutionize your backyard cooking experience with their innovative gas grills with side burner combination, designed to unlock a world of flavors and possibilities.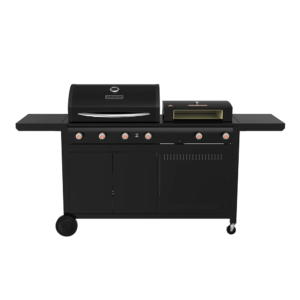 Unparalleled Versatility
BakerStone's gas grills with side burners offer unprecedented outdoor cooking flexibility. These multi-function cooking appliances combine the convenience of a gas grill with the added functionality of a side burner. The side burner allows you to prepare a variety of dishes simultaneously, whether it's boiling, sautéing, or simmering. From grilling mouthwatering burgers and steaks to baking artisan-style pizzas, these gas grills with side burners do it all.
Superior Quality and Functionality
BakerStone takes pride in delivering products of exceptional quality, and their gas grills with side burners are no exception. The enameled cast iron cooking grates lock in juices and flavor, ensuring delicious results every time. The heavy-duty steel griddle provides a spacious cooking surface for preparing breakfast favorites or stir-frying vegetables. Additionally, the inclusion of a wood pizza peel and turner/spatula adds convenience and versatility to your outdoor cooking arsenal.
Conclusion
With BakerStone's gas grills with side burners, you can elevate your outdoor cooking experience to new heights. The combination of a gas grill, pizza oven, and griddle in one appliance offers unmatched versatility. Whether you're hosting a backyard gathering or enjoying a quiet evening with your family, these gas grills with side burners provide the tools you need to create delicious meals and unforgettable memories. Trust BakerStone to deliver innovative, high-quality outdoor cooking solutions that will take your culinary skills to the next level.