Product News
Discover the Power of benco V90: Your Ultimate Smartphone Choice
In the dynamic world of smartphones, finding the perfect balance between innovation, reliability, and affordability is paramount. Enter the benco V90, a revolutionary device crafted by the globally acclaimed brand, benco. Seamlessly blending cutting-edge technology with elegant design, the benco V90 stands as a testament to the brand's commitment to providing consumers with exceptional mobile experiences.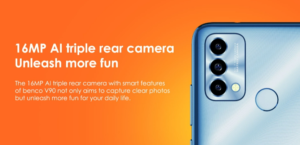 Unveiling benco: A Legacy of Quality and Innovation
Founded on the principles of reliability and fun, benco has been a trailblazer in the mobile industry for over a decade. With a presence in more than 28 countries and regions, benco has garnered the trust of over 60 million passionate users since its inception in 2009. The brand's dedication to offering high-quality products and unparalleled services has solidified its reputation as a global leader in the smartphone market.
benco V90: Where Power Meets Performance
Design and Display:
The benco V90 boasts a sleek design, with dimensions of 76.85mm in width, 171.09mm in height, and a mere 9.13mm thickness, making it comfortably slim and easy to handle. Its 6.82-inch water drop display, featuring a 1640×720 HD plus resolution, offers vibrant visuals in an immersive 20.5:9 aspect ratio.
Performance and Battery:
Powered by a robust 1.6 GHz octa-core processor and a reliable IMG8322 GPU, the benco V90 ensures seamless multitasking and smooth graphics performance. Equipped with a 5000mAh Li-poly battery, this smartphone guarantees long-lasting usage, allowing you to stay connected throughout your day without interruptions.
Camera Capabilities:
Capture life's moments in stunning detail with the benco V90's 16MP AI triple rear camera, featuring an f/1.7 aperture and a 1.4μm pixel sensor. Additionally, the 8MP AI front camera, with an f/2.0 aperture and Portrait Mode, enables you to take breathtaking selfies with ease.
Conclusion
In conclusion, benco V90 embodies the perfect blend of style, performance, and affordability. With benco's unwavering commitment to quality and innovation, this smartphone stands as a testament to the brand's legacy. Explore the world of benco, where every device is a gateway to an enhanced and enjoyable mobile journey. Elevate your smartphone experience with benco V90 today!