Tech News
Why USB C Hub From CableCreation Is It I Must-Have for Laptop Users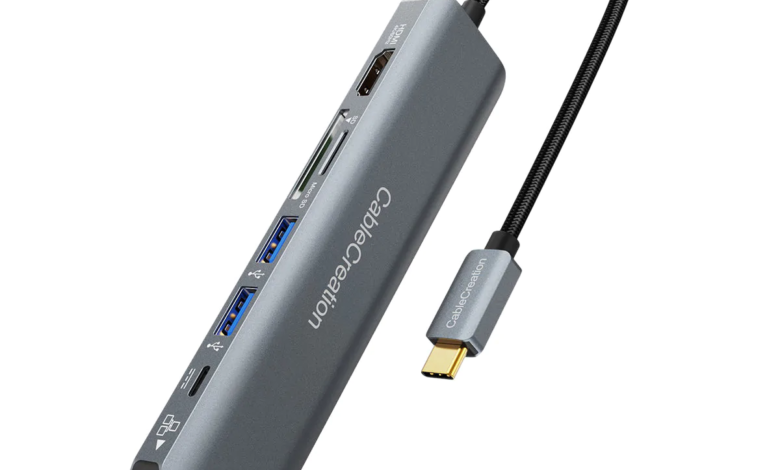 Using the USB C hub can directly enhance your laptop's number of common connectors since USB C can support USB, PD, DisplayPort, Thunderbolt, and other protocols. Since most hubs are small, you can transport them anyplace. The hub serves as the central connection point for all peripherals, making your desk cleaner and reducing the hassle of plugging and unplugging the notebook interface. Let's examine its features in more detail so you can decide how many ports you require and why a USB C hub from CableCreation is a must-have for laptop users.
A USB Port
After years of development, the USB (Universal Serial Bus) interface has evolved into a communication interface that is often used in electronic equipment. Some hubs have USB 2.0 connectors (which are often black), which can be used to connect a keyboard and mouse and have a 480 Mbps transmission speed. Other hubs have USB 3.0 ports (which are typically blue), which can be used to connect a hard drive or U disk and have a 5 Gbps communication speed.
VGA, HDMI, and DisplayPort ports
These connections allow us to connect an external display to the laptop, take advantage of the excitement of working on two screens, and increase productivity. Select the appropriate hub for your monitor's port.
The current standard for attaching audiovisual equipment is HDMI (TVs, projectors, and monitors). It can concurrently produce images and music, and the hub can support resolutions up to 4K@60Hz UHD HDR. Some high-end monitors employ DisplayPort, which offers audio and video synchronization and resolutions up to 8K/60Hz (often by a single-port converter). VGA, which has a maximum resolution of 1920×1200@60Hz and can only output images and not audio, can help you make use of your old display.
Port RJ45
One of the most used features of a USB C hub is Registered Jack 45, also known as an Ethernet port. This port will allow you to directly connect to a router; an Ethernet cable-based network connection is more reliable and swifter than one made through Wi-Fi. Manufacturers of 1000Mbps (1Gbps) RJ45 ports with 100Mbps/10Mbps LAN backward compatibility are available. This is another aspect you should think about if you require a high-speed Internet connection.
In conclusion, you can acquire a USB C hub if you wish to live a clutter-free life, whether at work or at home. Only after using it will you realize how convenient it is. At CableCreation, we are dedicated to giving our cherished customers top-notch goods and services. Stop delaying and begin streamlining your life with the best USB C hub available.